ARNALDO DIAS BAPTISTA
MULTI-INSTRUMENTALIST, COMPOSER, WRITER, VISUAL ARTIST
July 6th, 1948 – Baptista is born in the city of São Paulo to pianist, concert performer and composer Clarisse Leite Dias Baptista and journalist, poet and opera singer César Dias Baptista.
1955 to 1979 – He takes different courses: Music: experiencing classical piano with his mother Clarisse Leite throughout his childhood and adolescence, and takes classes with Zilda Leite Rizzo (1955-1958); classic double bass, acoustic guitar, jazz-rock piano. Dance: modern dance and classical ballet at Ballet Stagium dance company (in the 1970s); classical ballet with Eugênia Feldorowa (1974-1979). Languages: English, German, Esperanto, as well as Russian with Igor Valesvisky (1976-1979).
1961 to 1967 – Arnaldo participates in the creation of various groups as musician and composer; such as Só Nós, Wooden Faces, Sand Trio, Six Sided Rockers, and O Konjunto.

1966 – He founds the band Os Mutantes with his brother Sergio Dias and Rita Lee.

1967 to 1973 –Os Mutantes participate in various music festivals, alongside Tropicalists Gilberto Gil, Caetano Veloso, Rogério Duprat, and others. He goes on tour with his band around the country and abroad.

1970 and 1972 – Baptista is the record producer of the first two Rita Lee solo albums: Build Up and Hoje É o Primeiro Dia do Resto de Sua Vida (Today is the first Day of the Rest of Your Life).

1972 – He records the album O A e o Z with Os Mutantes, of which Rita Lee was no longer part.

1973 – Arnaldo leaves Os Mutantes.

1974 – Baptista launches his solo album Loki?, acclaimed by many critics as one of the most influential and important works in Brazilian rock'n'pop.

1977 – His only child, Daniel Mellinger Dias Baptista, whom he had with actress Martha Mellinger, is born.

1975 to 1978 – He founds the band Patrulha do Espaço (Space Patrol) and continues to compose classic rock repertoire. In 1988, the band launches two albums with the label Vinil Urbano: Elo Perdido (Lost Link) and Faremos uma Noitada Excelente (We Will Make It an Excelent Night Out).

1981 – Arnaldo records another striking album Singin'Alone, playing all the instruments and also acting as record producer. The LP was launched in 1982 with the label Baratos Afins, and was later re-launched in CD by EMI-Virgin (1995), including the bonus track "Balada do Louco", re-recorded in Arnaldo's voice.

1981 – He does a solo show, Shining Alone, at TUCA-SP Theater, recorded by Luiz Calanca and launched in the digital environment in 2014.

1982 – Baptista moves to Juiz de Fora city, in Minas Gerais, with his wife Lucinha Barbosa, where they currently live. In this period, he begins to produce more as a visual artist, devoting himself to this as much as to music.

1984 – Launch of the album Disco Voador, with BaratosAfins.

1990 –First paintings and drawings exhibition, at theCultural Center of the Federal University of Minas Gerais, curated by FabianaFigueiredo.

1992 – Paintings and drawings exhibition in São Paulo, curated by Paulo Maluy and Paula Amaral, and at the Cultural Center of the Federal University of São Carlos, curated by Fabiana Figueiredo. He begins to paint t-shirts and cards.

2000 – Arnaldo makes a special appearance with Sean Lennon at the Free Jazz Festival.

2001 –He participates in the CD Tribute to John Lennon, Dê Uma Chance à Paz, with vocals for two versions of "Give Peace a Chance": one with Charles Gavin and Andreas Kisser, and the other with Miko Hatori, Timo Ellis and Duma Love (Cibo Matto), produced by Yuka Honda.

2004 – Launch of Let It Bed, produced by John Ulhoa. The album received acclaimed reviews and won the "Prêmio Claro de Música Independente" award. It is also included in the top ten albums of 2005 by UK Mojo magazine.

2006to2007 – Arnaldo goes on an international tour with the reunion of Os Mutantes.

2008 – Canal Brasil TV channel launches the documentary Loki! Arnaldo Baptista, directed by Paulo Henrique Fontenelle. The film wins over 14 prizes in national and international film festivals.

2008 – Baptista launches, with Rocco publishers, the novel Rebelde entre os Rebeldes (Rebel Among the Rebels), written in the 1980s.
Since 2010 – He enters the official visual arts scene, represented by Galeria Emma Thomas gallery (SP), participating in the collective exhibition Arsenal. 2012: first solo exhibition, Lentes Magnéticas (Magnetic Lenses), at Galeria Emma Thomas. The Gallery began to present the artist in various editions of the SP-Arte international fair. 2013: he takes part in the collective exhibition Ateliê dos Músicos, at Sesc-Vila Mariana. 2013: collective exhibition Brasil: Arte/Música, at Zacheta National Art Gallery, Warsaw, Poland, curated by Magda Kardasz. 2014: Baptista is invited by curator Rodrigo Moura for the Solo Project of the SP-Arte. 2014: Holds his second solo exhibition, Exorealismo, at Galeria Emma Thomas, curated by Marcio Harum. 2015: participation in the Projeto Solo em Arte e Música at Epicentro Cultural, curated by Mariana Coggiola and Cassiano Reis.
Since 2011 – Arnaldo Baptista returns to the stage at Sesc Belenzinho Theater, São Paulo city. He went then touring with his concert Sarau o Benedito?, in which he sings and plays a grand piano, after 30 years without performing in this format. Baptista perform at renowned theaters and events, such as Theatro Municipal de São Paulo (8th Virada Cultural); Teatro de Santa Isabel, Recife city (MIMO 2012); Salão de Atos da Universidade Federal do Rio Grande do Sul (2012), Centro de Cultura Lúcio Fleck, Sapiranga city(2013); Teatro Cine Brasil Vallourec, Belo Horizonte city (2014), Festival Psicodália (2015), and the strong Sesc theaters circuit.

2012 – His short story "The Moonshiners" is translated and published in the "Ilustríssima", Folha de São Paulonewspaper.

2013 – He creates live and at the piano, the soundtrack for George Méliès' short-film A Trip to the Moon in the event "Noite Branca", Palácio das Artes, International Short Film Festival of Belo Horizonte.

2013 – Arnaldo voices The Mad Hatter for the play Alice in Wonderland, performed by Giramundo group and its puppet theater.

2013 e 2014 – He launches, with cdbaby.com, his entire solo work in the digital environment.

2015 – Baptista and Canal 3 launch a box with five albums of his solo career, in Compact Disc format.

2016 – Arnaldo Dias Baptista is selected by Caixa Cultural São Paulo to hold the individual exhibition Transmigração (Transmigration) curated by Marcio Harum. Web site: http://transmigracao.com.br/
2017 - Polysom record releases the classic album Loki? (1974) in vinyl 180, all original, with insert with lyrics (unpublished). The disc was specially mastered for vinyl by Ricardo Garcia in Magic Master from the original tapes provided by Universal Music. The text for this launching was signed by renowed music journalist Jotabê Medeiros. Portuguese version available here in Discography.

By Sônia Maia.
__________________________________________________________________
The geniality inside a valve

Rogerio Duprat, in his interview for the documentary `Popular Bad Boy: Arnaldo Dias Baptista`, by Patricia Moran, was very emphatic: "The Mutantes were the most important thing in Tropicalismo. And none has made that clear. But I know this only too well, and I know that the brain of it all, the brain of Mutantes was that of Arnaldo Baptista. I insist and I resume: Arnaldo is responsible for all that happened from 1976 onwards." Kurt Cobain, in his travel to Brazil, sent Arnaldo a note of praise.
But which is the bridge between the archaeological opinion of Rogerio Duprat (the maestro responsible for the Tropicalista's albums arrangements) and Kurt Cobain's note? Is there a mystification of a mad artist? Or is this another version of an old history?
Arnaldo, as well as Rita Lee and Sergio Dias had their life and work cut into two phases: the glories of Tropicalia and Mutantes times and, in Arnaldo's case, the further madness. But what to say about his five solo albums? And how could an artist be called mad just because he rather plays in amplifiers run by valves, especially nowadays when a lot of people praise their supremacy over the disposable transistors? Could it be called madness Arnaldo's choise for Gibson guitars instead of Fenders, preferred by his brother Sergio? How could Arnaldo write two science fiction books being mad? And painted hundreds of paintings?
The true is that the geniality of Arnaldo could only be called madness by the Brazilian mediocrity. Even a possible death, announced various times, would not be adequate. If so, we would have had our Syd Barret, our Arthur Rimbaud, our Antonin Artaud. But against this stigma, just listen to Arnaldo's work.
His first album solo `Lóki?` is, without doubt, the master piece of Brazilian pop-rock. `Lóki?` was launched in 1974 with the participation of The Mutantes Rita, Liminha and Dinho; arranged by Rogerio Duprat; and came with a stamp: 'this album is to be listened in highest volume'. It brings songs such as 'Am I turning into mildew? (Será que eu vou virar bolor?)', 'One only-lonely person' (`Uma pessoa só`, which implies double meanings in Portuguese: 'a lonely person' and 'one person only' - both songs from the last breathe of Mutantes. This double meaning exercise is recurrent in Arnaldo's lyrics and humour). There is also 'I don't care' (Não estou nem aí); 'I will dive into the lingerie' (Vou me afundar na lingerie); 'Do you think I am mad?' (Cê tá pensando que eu sou lóki?); 'Believe me: I love you' ('Te amo, podes crer' being podes crer the equivalent to 'believe me', but actually sort of a slang and therefore funnier in its meaning). There are more. After recording `Lóki?`, Arnaldo moved from São Paulo city to Rio de Janeiro to shape the band Unzioutros, with Lulu Santos, a successful Brazilian pop star nowadays.
In 1976 Arnaldo joined Patrulha do Espaço (Space Patrol) with John Flavin (guitar); Osvaldo Gennari (bass) and Rolando Castello Junior (Drums). In the next year, Arnaldo recorded an album in Vice-Versa Studio, which was not released until 1988, when Osvaldo and Rolando remasterised the original tape and launched the LP `Lost Link` (Elo Perdido) with songs such as 'Sunshine'; 'Sexy Yours'; 'Corta Jaca' (Cut Jaca – being jaca a Brazilian fruit); 'Trem' (train); 'Emergindo da Ciência' (Emerging from the science); 'Raio de Sol' (Sumbeams); ' Um Pouco Assustador' (A Bit Frightening) and ' Fique Comigo (Stay with Me).
In 1980, Arnaldo launched the album 'Singing Alone`. It was the first record of the independent label Baratos Afins, owned by Luiz Calanca. Arnaldo played all instruments. There are songs such as 'I fell in love one day'; 'O Sol' (The Sun); 'Hoje de Manhã eu Acordei' (This Morning I woke up); 'Sitting on the Road Side'; 'Ciborg' (Cyber); 'Young Blood', among others.
In the beginning of 1982 he is admitted in a psychiatric clinic and suffers an accident. Arnaldo's reputation of madness and suicidal tendency was back to the spot lights.
In 1987, Rolando Castello launched new songs from Patrulha do Espaço with a few live tracks from shows they toured in 1978. The album 'Faremos uma Noitada Excelente' (We will have a great night out) brings, basically, songs from 'Elo Perdido' and 'Singing Alone', being Singing a piano solo by Arnaldo. In the same year, tBaratos Afins's label launched a limited edition of Arnaldo's home made album `Disco Voador` (UFO). It was originally recorded in two channels by Arnaldo and masterised in Vice-Versa studio. The album brings two versions, one in English and another in French, of the classic Balada do Louco 'Balad of the Mad' totalising eight songs.
In 1989, Eldorado's label launched the album-homage 'Sanguinho Novo – Arnaldo Baptista Revisitado' (Youth Blood – Arnaldo Baptista Revisited). Produced by Alex Antunes and Akira S, two independent musicians, the album featured versions by the most important independent bands of the Brazilian rock-pop scenario of that time, such as Sexo Explicito (Explicit Sex); 3 Hombres (3 Man); Vzyadoc Moe (a name by a ballot of letters); the internationally acclaimed Sepultura; Último Número (Last Act); Akira S e as Garotas que Erraram (Akira S and the girls that went wrong); Ratos de Porão (Rats from the basement); Fellini; Atahualpa Y Us Panquis, Maria Angélica, Scowa and Paulo Miklos.
From this day, Arnaldo Baptista's coin went back to circulation in various versions by various Brazilians pop stars and bands, such as Kid Abelha, Lobão, João Penca & Os Miquinhos Amestrados (João Penca and the domesticated little monkeys); Paula Morelembaum, Pato Fu among others. They showed the monumental and so far unknown work of the Gepetto run by a valve living in the small city of Juiz de Fora.

Marcello Dolabela.

Translation by José Eduardo Mendonça and Sonia Maia (recent updates)
My special thanks to Lucinha Barbosa, for having invited me to write this text and for her untiring determination to search and to provide me with information without which I wouldn't be able to complete this honoured task. I also thank Marcelo Lopes for his invaluable contribution in all moments of this work.

BIOGRAFIA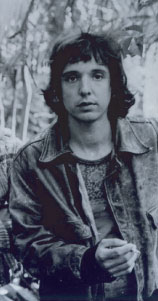 Arnaldo Dias Baptista
Data de Nascimento: 06 de julho de 1948
Local de Nascimento: São Paulo - SP
Filiação: César Dias Baptista e Clarisse Leite Dias Baptista
Signo: Câncer